I'd say that the title of this blog post speaks for its self... It is time for this mommy to get right for the summer fit and stop being lazy! I have set a goal for myself: LOOSE THE LAST OF THE BABY WEIGHT!
So far, I've got 13 pounds to go plus an extra 10 pounds to get to my pre-baby weight of solid muscle! I know, I know, it seems like a lot of weight to loose... I've set workout after workout since last April and did not fulfill those workout goals to myself. This time around I will fulfill my goal and I will accomplish it because I've bought myself this baby: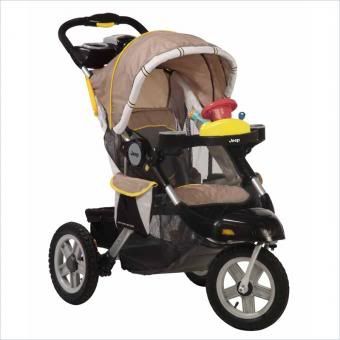 The Kolcraft Jeep Energy Jeep Liberty Jogger Stroller!
*gasps*
Yes, I plan to put my little prince in this baby and run around the city of Olympia while I jam to Kanye West's "New Workout Plan" and the "New Workout Plan [Remix]" on my Zune and get my skinny on! I ordered my new jogger on Friday and I get it sometime next week. I cannot wait to break this baby out and start my new new workout plan. =D
...and the best thing is, Trev can come running with me!